HP 6-cell Primary Battery (VE06)
HP part: EV088AA UPC: 882780 446182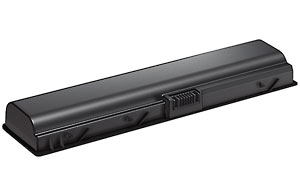 Compatibility: HP G6000, G7000; HP Pavilion dv2000, dv6000 / dx6000; Compaq Presario A900, C700, V3000, V6000, F500, F700
OVERVIEW:
Want more video viewing, music, photos, and games without having to plug in your AC adapter? The key is maximizing your battery life. This Smart Lithium-Ion battery works with your notebook to reduce power consumption, letting you work longer than with other types of batteries.
Double your work time available without having to plug in to AC power * Recharge the battery in your notebook using the AC adapter, whether the notebook is on or off.
Charge up completely, even if the battery isn't fully discharged.
Rely on HP; this battery has been specially designed and tested to meet your HP notebook's power needs.
Warranty: six-months limited.
Compatibility: HP G6000, G7000; HP Pavilion dv2000, dv6000 / dx6000; Compaq Presario A900, C700, V3000, V6000, F500, F700.