HP 6-cell Extended-Life Battery (MU06)
HP part: WD548AA#ABB UPC: 884962 734094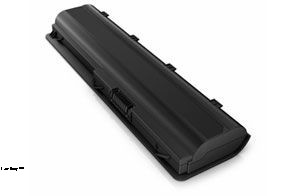 Compatibility: Compaq Presario CQ32, CQ42, CQ43, CQ56, CQ62, CQ72, CQ430, CQ630; HP g4, g6, g7, G32, G42, G56, G62, G72; Pavilion dv3-4000, dm4-1000, dv5-2000, dv5-3000, dv6-3000, dv6-6000, dv7-4000, dv7-6000; HP Envy 17-1000, 17-2000 series
OVERVIEW:
Keep playing games, watching videos and slide shows, and listening to music for longer, without plugging in your AC adapter. Our high-capacity 6-cell Extended Life Battery works with your notebook's power management features to reduce consumption so you can work longer than with other types of batteries. Plus, it completely charges up, even if it isn't fully discharged.
Extend your enjoyment of multimedia and work longer compared with our standard 6-cell battery.
Recharge in your laptop with the AC adapter, whether the PC is on or off.
Rely on us: this battery has been tested with all compatible HP notebook PCs.
Warranty and support: six-months limited; get help toll-free, 24 x 7, or via e-mail in as little time as an hour.
Compatibility: Compaq Presario CQ32, CQ42, CQ43, CQ56, CQ62, CQ72, CQ430, CQ630; HP g4, g6, g7, G32, G42, G56, G62, G72; Pavilion dv3-4000, dm4-1000, dv5-2000, dv5-3000, dv6-3000, dv6-6000, dv7-4000, dv7-6000; HP Envy 17-1000, 17-2000 series.